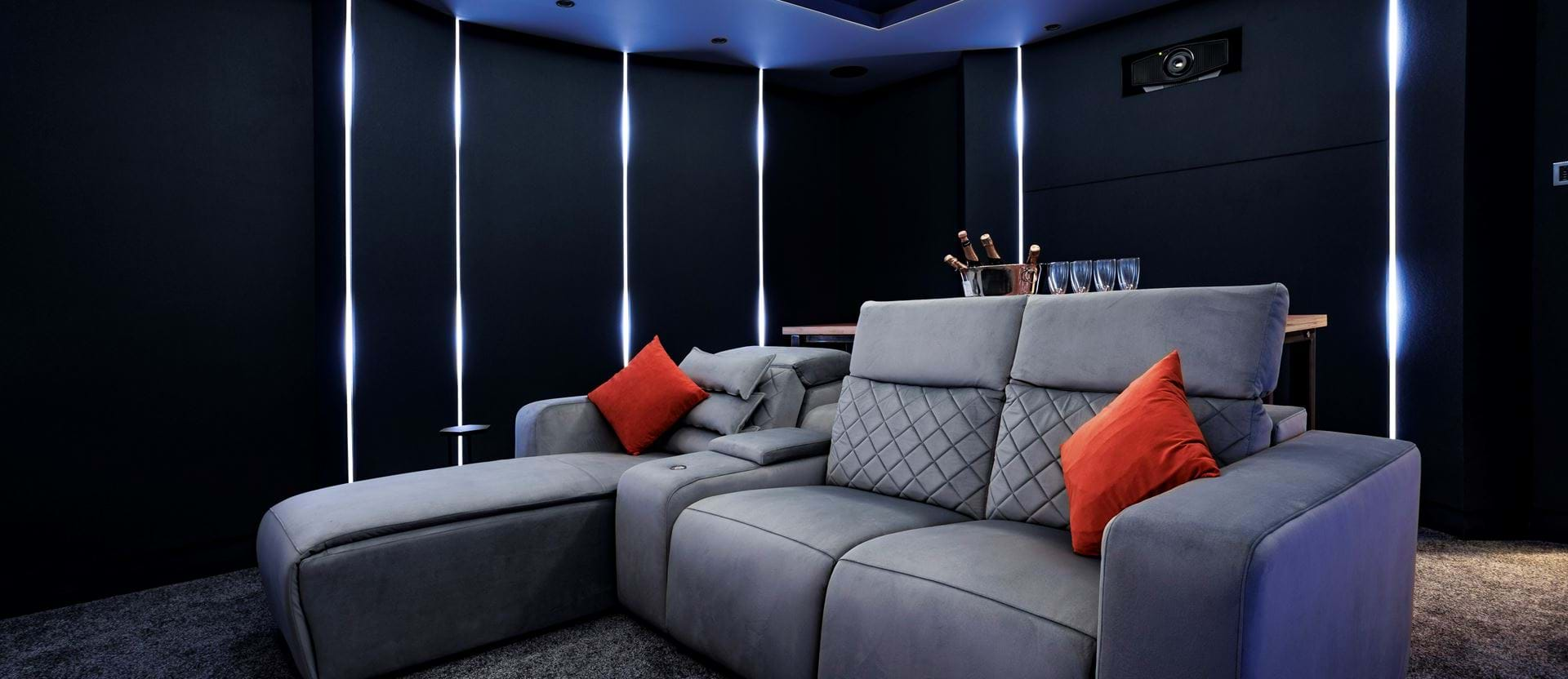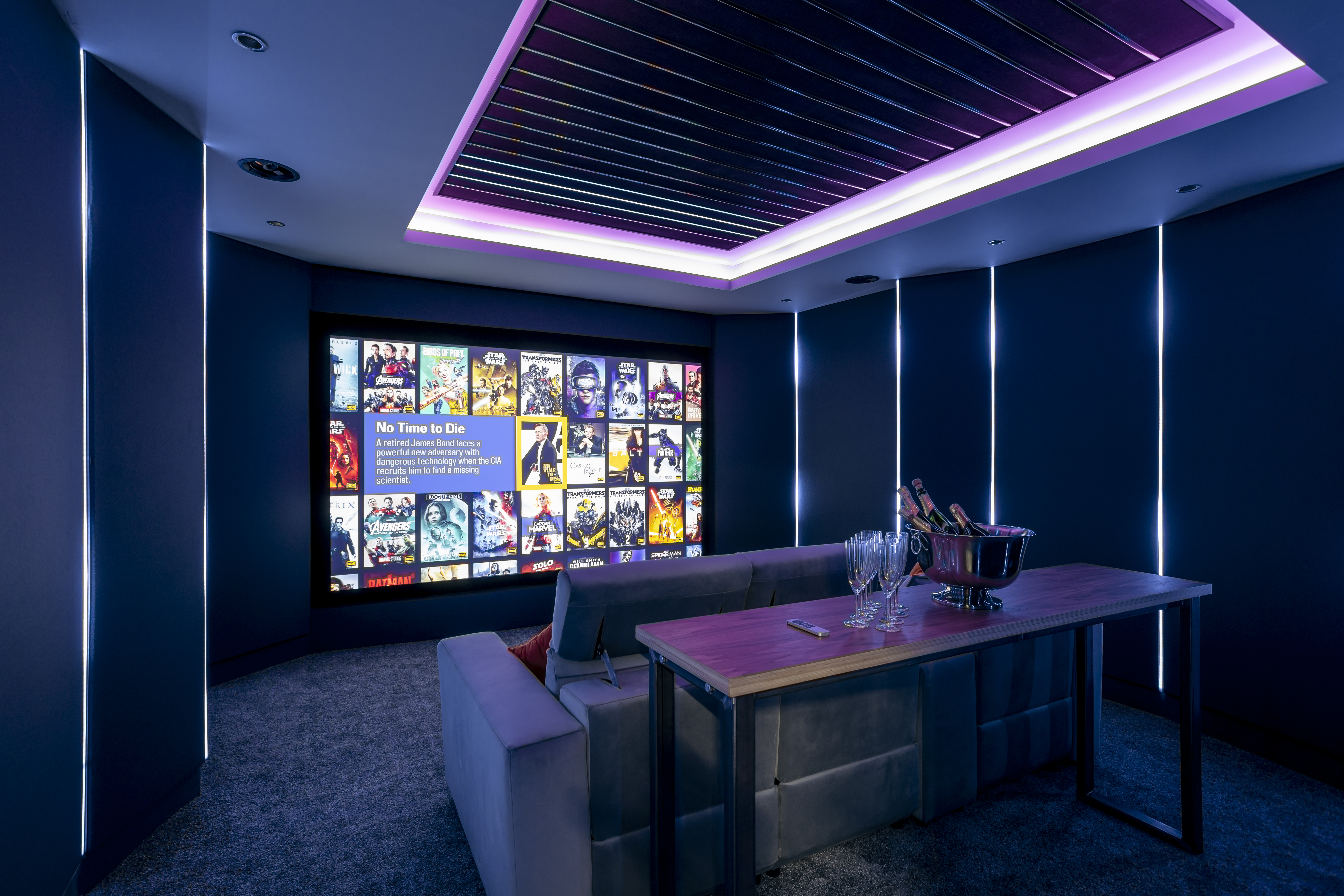 Project Background
Bristol based lighting specialist, Ablectrics has partnered with award winning integrator Cinemaworks to curate the perfect home cinema demo room at its Bristol showroom.
After moving into its new showroom, Ablectrics decided to expand its business into cinema design after noting the demand from customers for luxurious spaces in their homes. The cinema demo room was designed to push the limits of performance. Speakers are angled in the walls to crossfire sound at the central seating area with cutting edge lighting utilising new digital pixel RGB LED tape, all brought to life with Rako's award winning Modular keypads.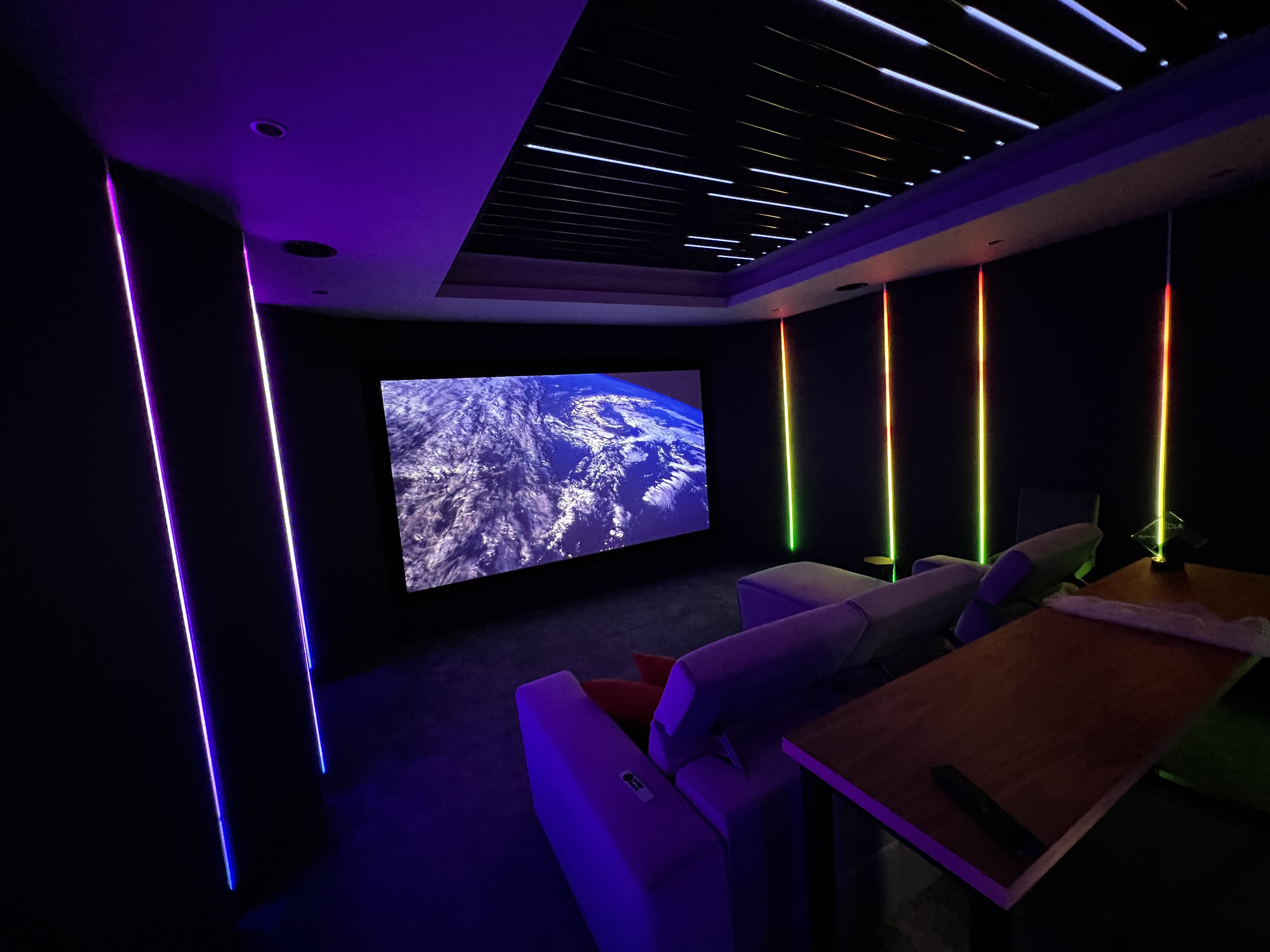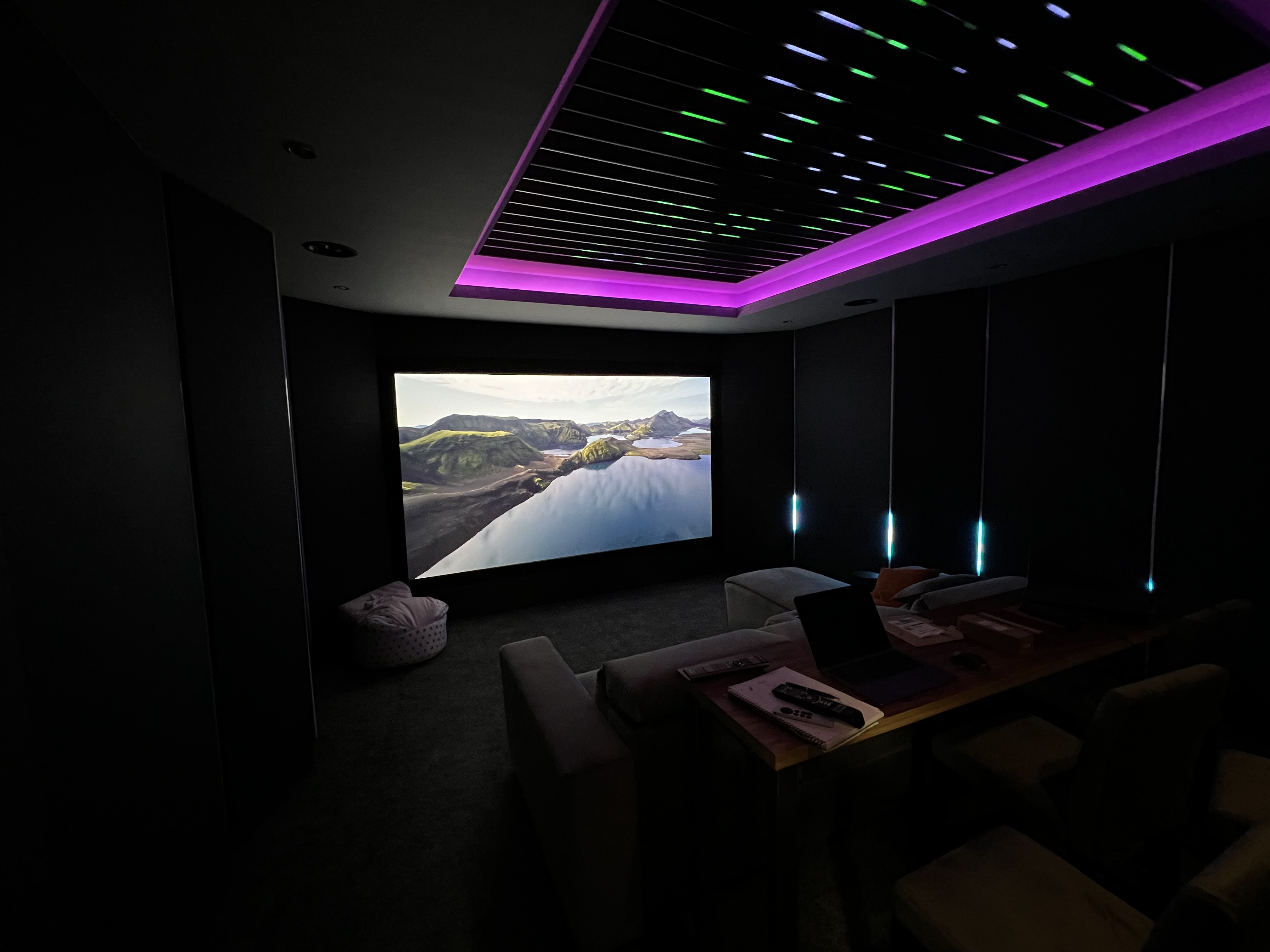 Partnership 
Director of Ablectrics, Fraser Besant, talks through the planning for curating the cinema room, "We partnered with Cinemaworks, as Owen Maddock, the owner, is recognised globally as one of the best home cinema designers, so if he designs a room for you, it will be special. When we delved into the design, we knew we needed our lighting to deliver tailored scenes that could draw you into whatever you are watching. Having years of experience working with Rako, we chose the wireless system as we knew it would be easy to install and provide exceptional reliability. Whilst it does its real hard work in the demo room, we also used it to light the rest of the showroom."
Owen Maddock, owner of Cinemaworks adds "Fraser is the king of lighting in Bristol and his showroom is already incredible, so we knew the lighting in our cinema had to be noteworthy. He's got 15 years of lighting experience and I've been doing home cinema even longer than that, so we worked closely together on the design, and it came out incredibly well, with the pixel lights adding that final bit of magic. Having Rako onboard to control it just makes everything really easy, for us and for the clients."
Rako products used
In the cinema room, the Rako Modular keypad with modern stainless-steel surround is used to seamlessly control all aspects of the lighting design with a mix of RLED30CV4s, RMT500s and RMS800s.  The Rako RK-Hub provides native app control and third-party integration into the Savant system which enables Rako's keypad to activate not only the lights but also the sound system and projector, creating the perfect blend of sight, sound, and cinema.
The Modular keypads have been programmed for bespoke scenes including Film, Sport, Kids and Action to demonstrate what is possible.  Each setting provides a unique atmosphere, changing the coloured LED pixel tape so that the lighting perfectly enhances the viewing experience. With additional customisable controls including adjusting the brightness, users can set the scene at the push of a button.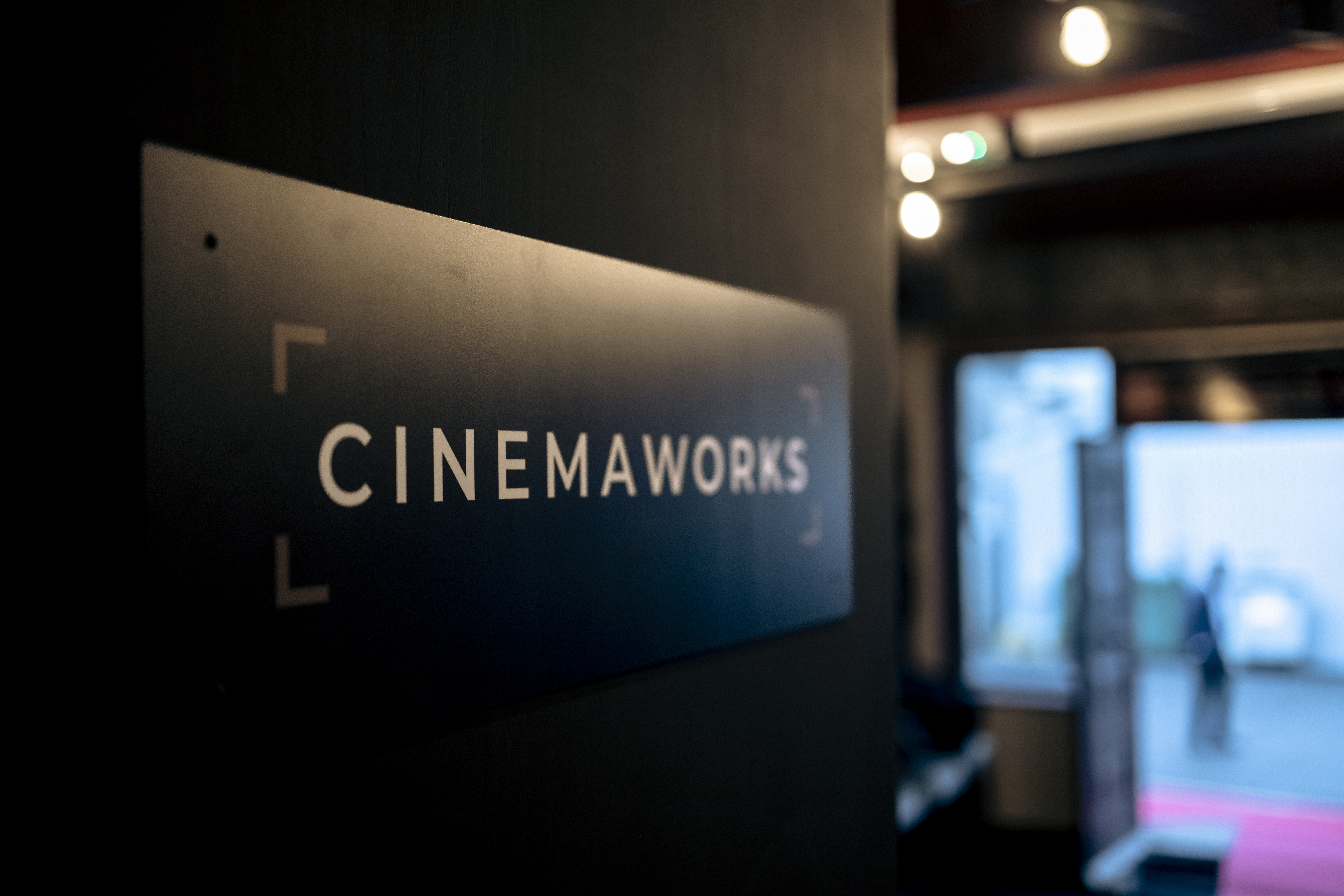 Performance
Fraser Besant concludes, "when you go to a normal cinema with 100+ seats it is not possible to take so much care and time with the experience, there are too many ears. Building a family cinema room, you can really push the limits and performance. We are so excited with what we've been able to achieve with Rako."
All images courtesy of Cinemaworks