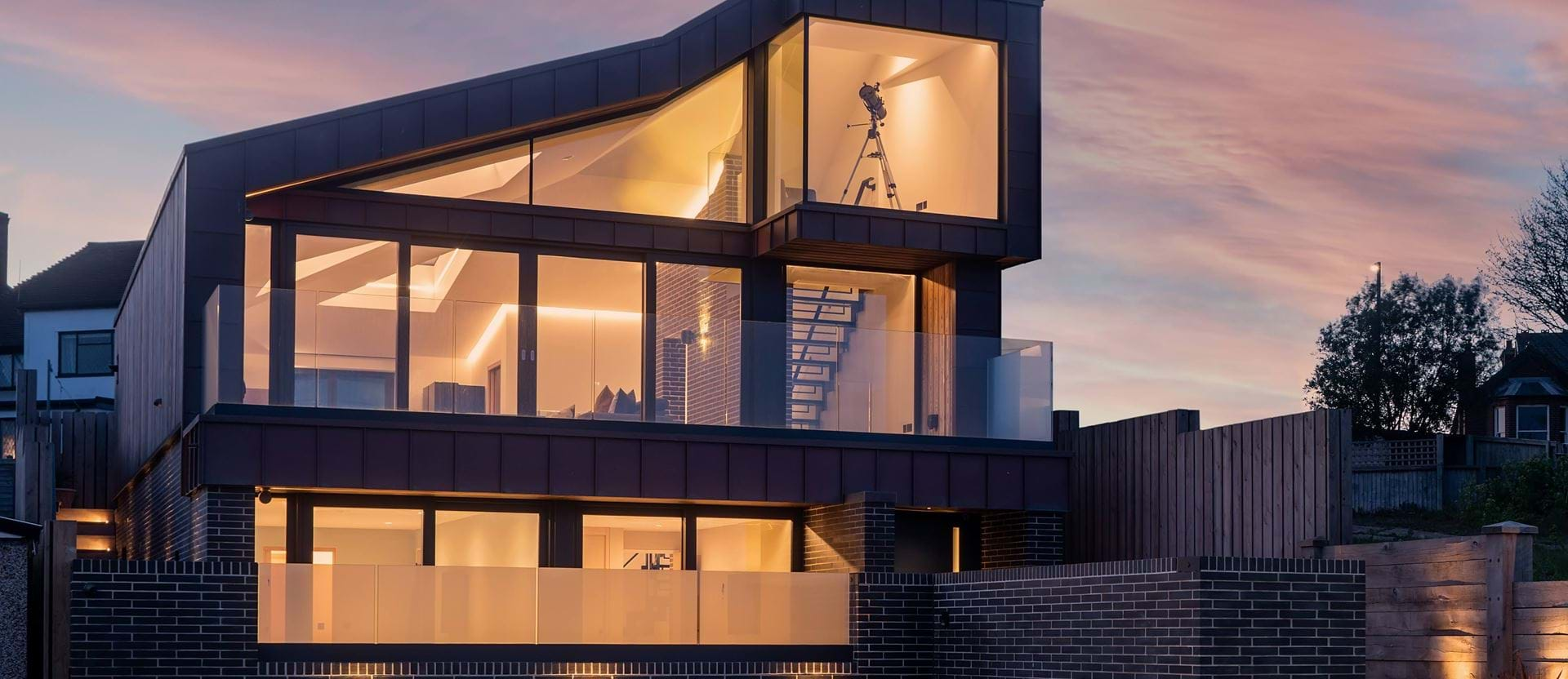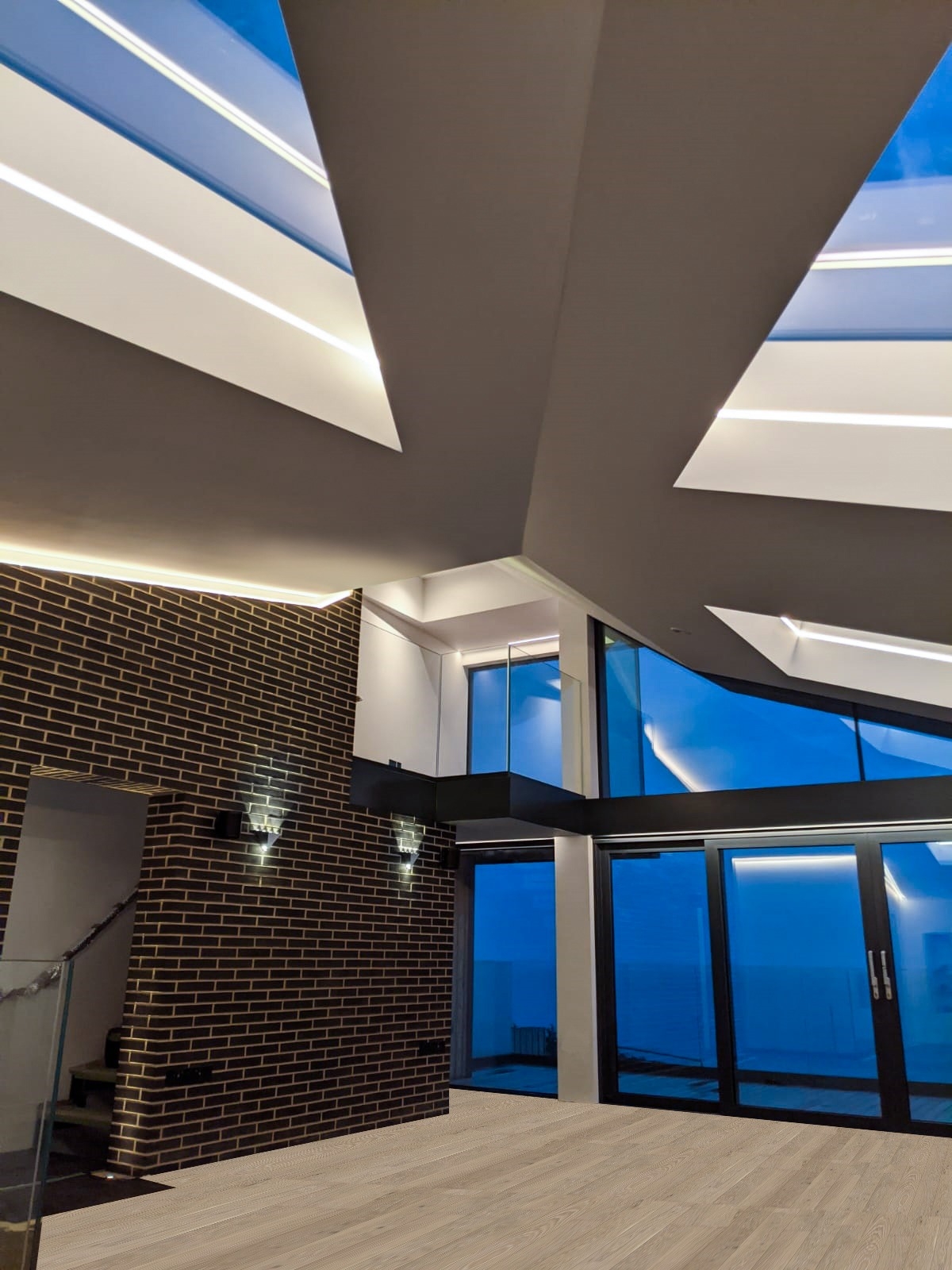 Challenges faced 
For Lighting By Plum, the skylights created challenges of how to ensure maximum daylight enters the space but ensuring illumination in the evening.  The skylights were an important part of the sustainability of the build, making sure the use of natural light was maximised to the fullest.  The use of recessed channels solved this issue by providing artificial light in the evening while ensuring daylight was not impeded from entering.  Due to the need to remain as concealed as possible within the space, Lighting By Plum used integrated lighting where possible. By using plaster-in channels, it allowed seamless lighting in the open plan living area while uplights recessed into the floor highlight the brickwork.  The external lighting was provided by the iGuzzini Trick fitting, which highlights the façade at night but is hidden from view during the daytime.
Project Background
Making its presence felt on the Essex coastline is a stunning new home, which perfectly merges modern structural design with the raw power and beauty of the sea. During the day this contemporary property complements surrounding buildings while at night-time it truly stands out from the crowd thanks to its imaginative lighting scheme designed by Lighting By Plum and managed by a sophisticated Rako control system. 
Located on the Dovercourt seafront, near Harwich, the building was designed by Cambridgeshire-based Harvey Norman Architects to a specific brief from the client. They wanted a modern two-bedroom home that would maximise the incredible views, with an emphasis on maritime design in terms of the materials used and architectural references to its local context. It also needed to deliver on sustainability with insulation, airtightness and ventilation being key considerations. 
The result was an upside-down house that has the bedrooms and bathroom on the lower level with an open plan living space on the floor above. A nod to seafarers was created with a projected viewing platform for a telescope on the second floor and full length windows ensure an uncompromised view out to the sea.  
With the design agreed, Harvey Norman Architects invited Lighting By Plum to produce a lighting scheme that would keep the ceiling lines clear, accentuate the vaulted ceiling detail and highlight the grandeur of the structure both internally and externally.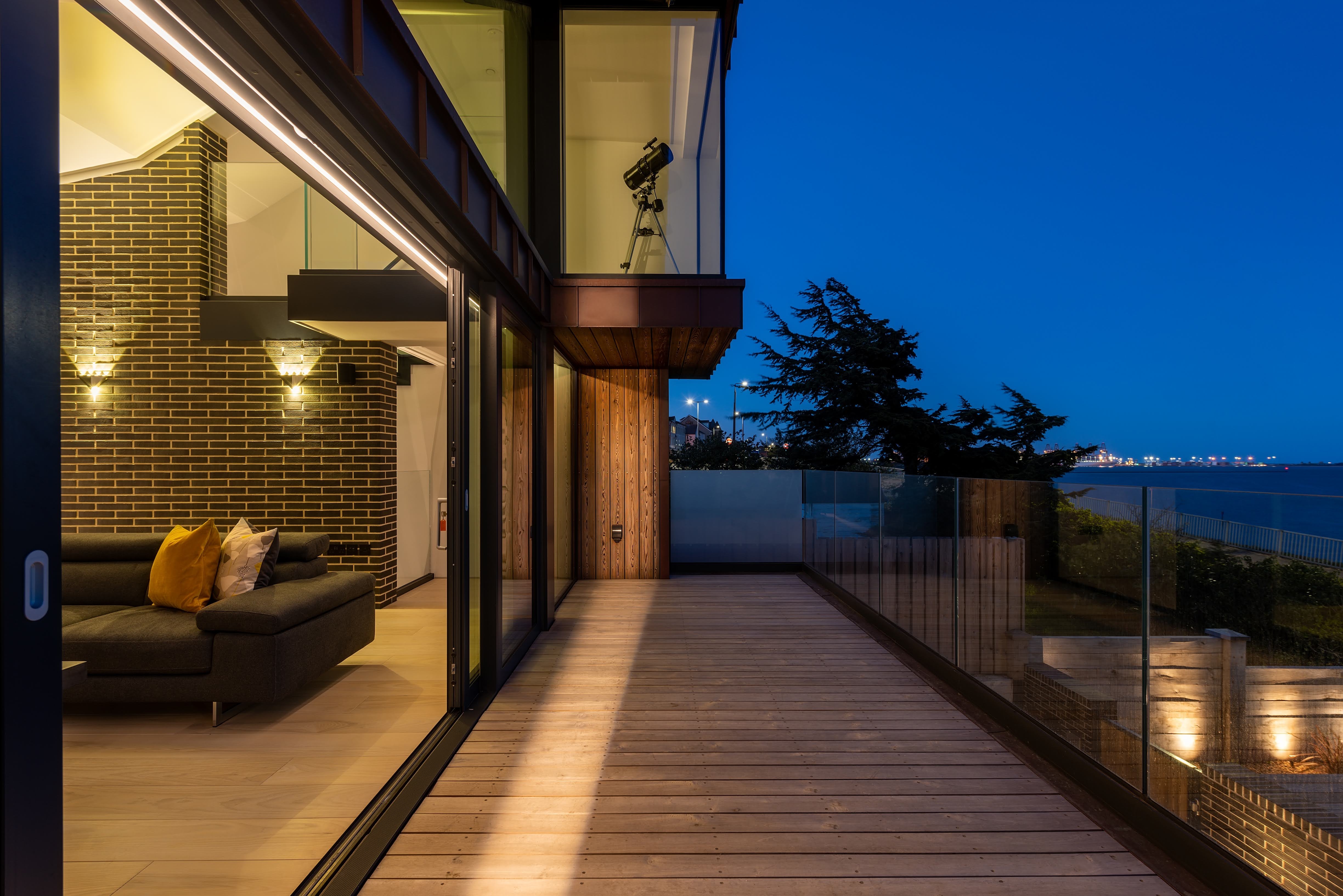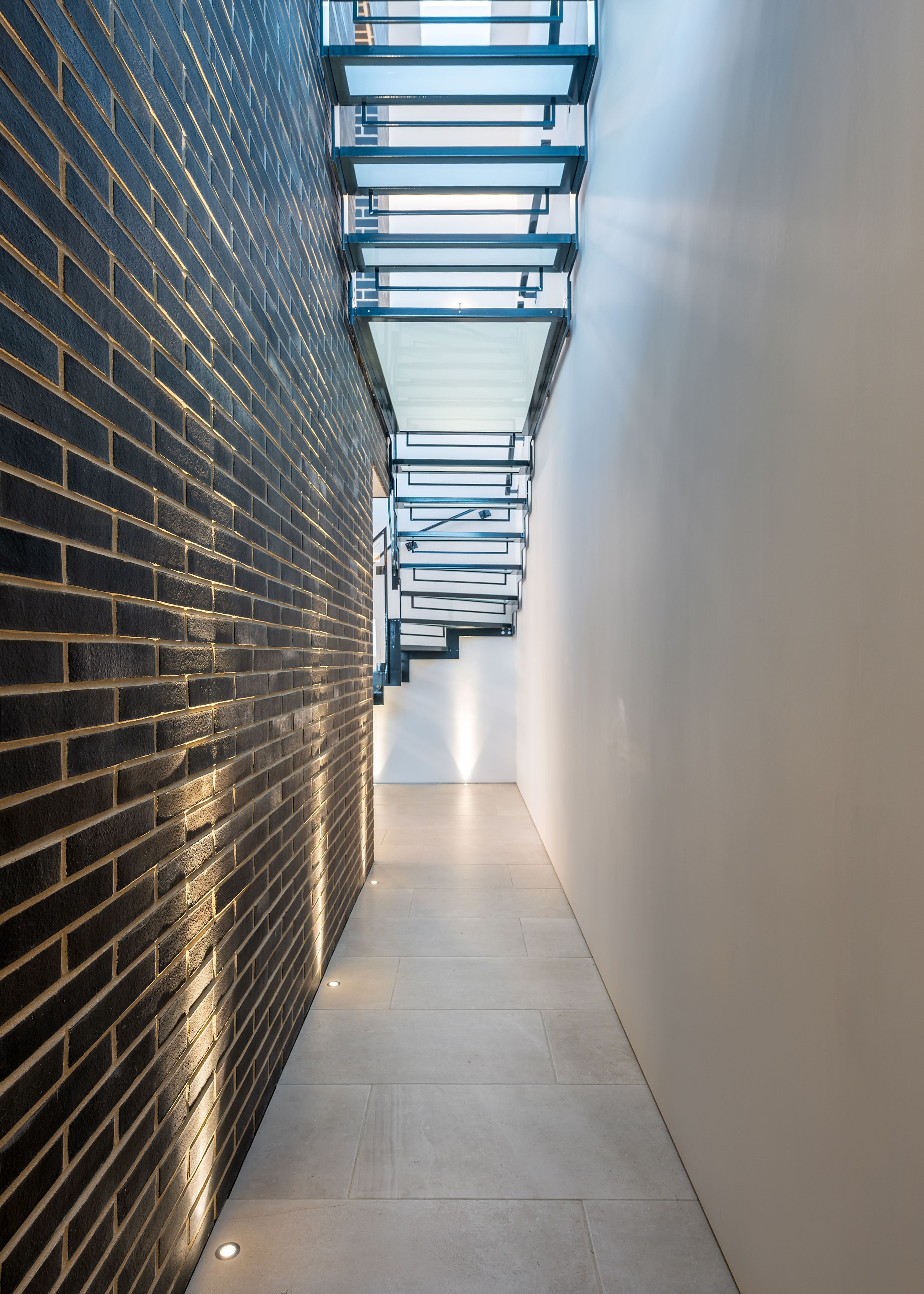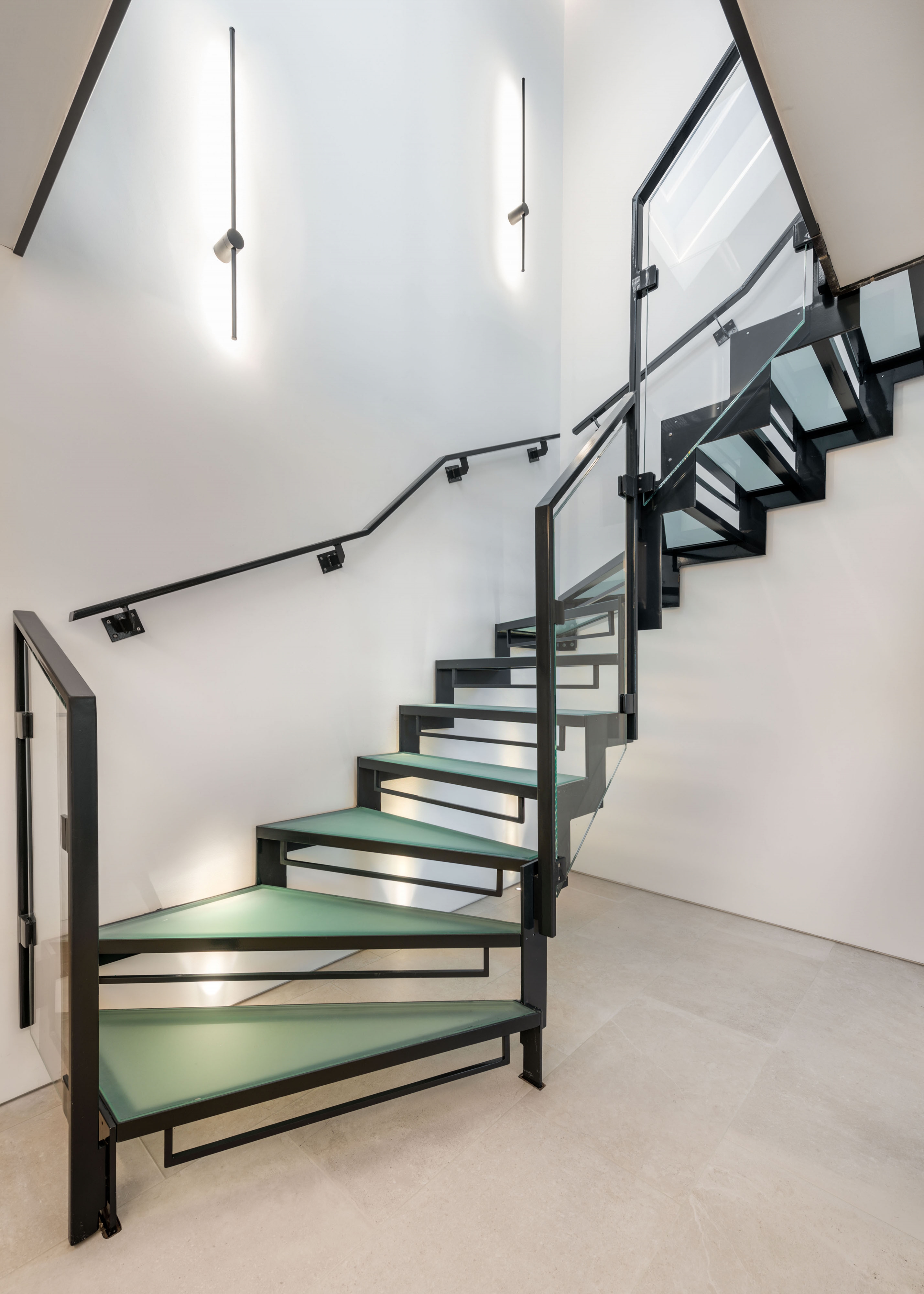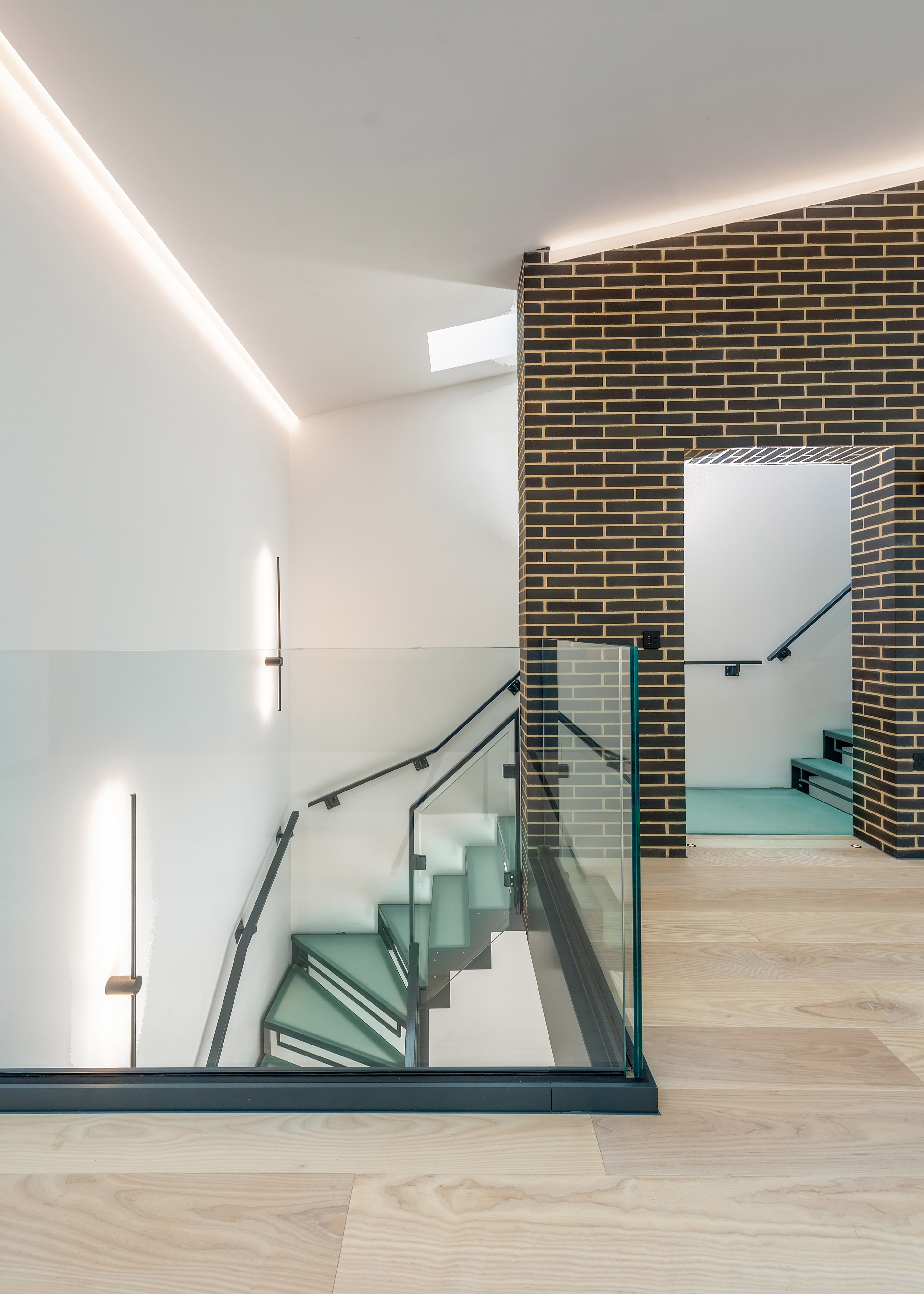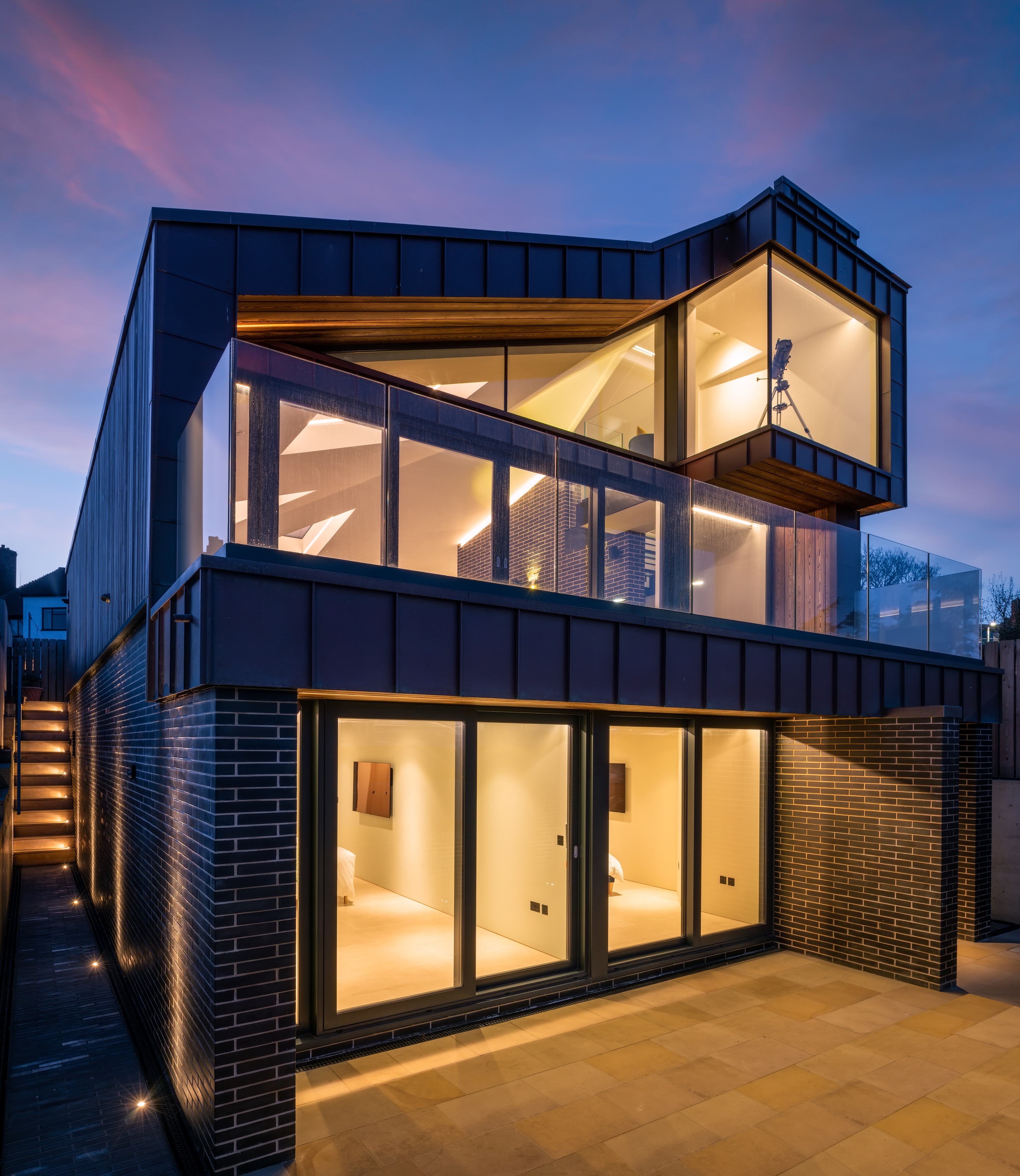 Rako products used 
The house features Rako's 7-Button wired Modular keypad, which connects to the RAKOM wired CAT5 network pre-configured for four scenes, off, raise & lower. The client also selected a cover plate in matt black to fit with the interior décor of the property.
Lighting By Plum carefully considered the appropriate layering of light so both practical and intimate lighting scenes could be created using the Rako control system.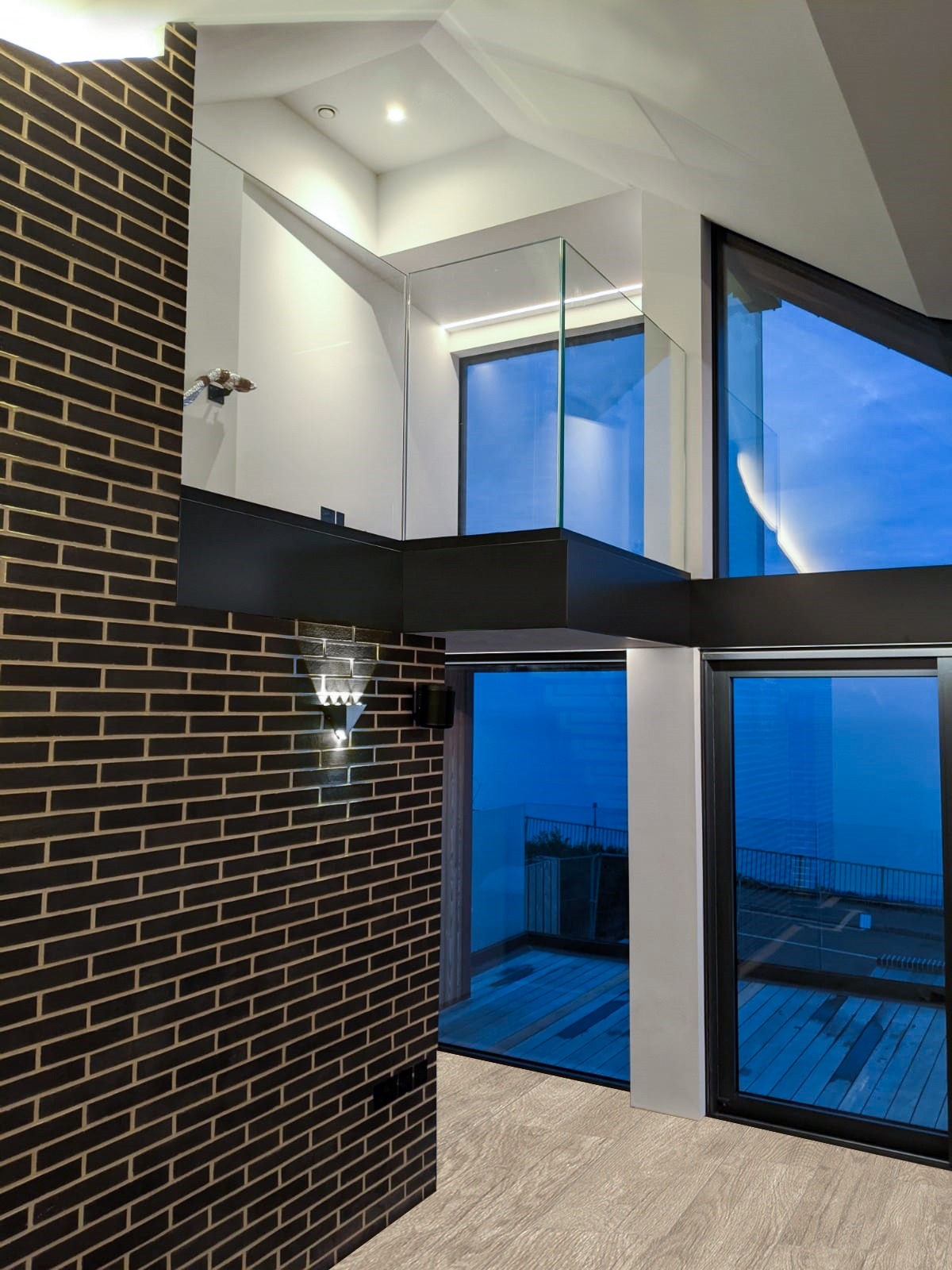 Project highlights
"This was a fascinating project to work on," comments Mike Thorpe, Director at Lighting By Plum. "The building itself is truly unique and presented us with an interesting challenge when it came to designing the lighting scheme."
"Installing Rako for this project was ideal," continues Mike. "Its product range allowed us to use a combination of wired and wireless products across the home. We set individual scenes for day, evening and night throughout each space and area."
"The overall integration of concealed lighting added to the success of this project by allowing the lighting to work harmoniously with the architecture," concludes Mike. "We are delighted with the end result and so is the client. They have a stunning home to enjoy with beautiful views out over the sea to the horizon."