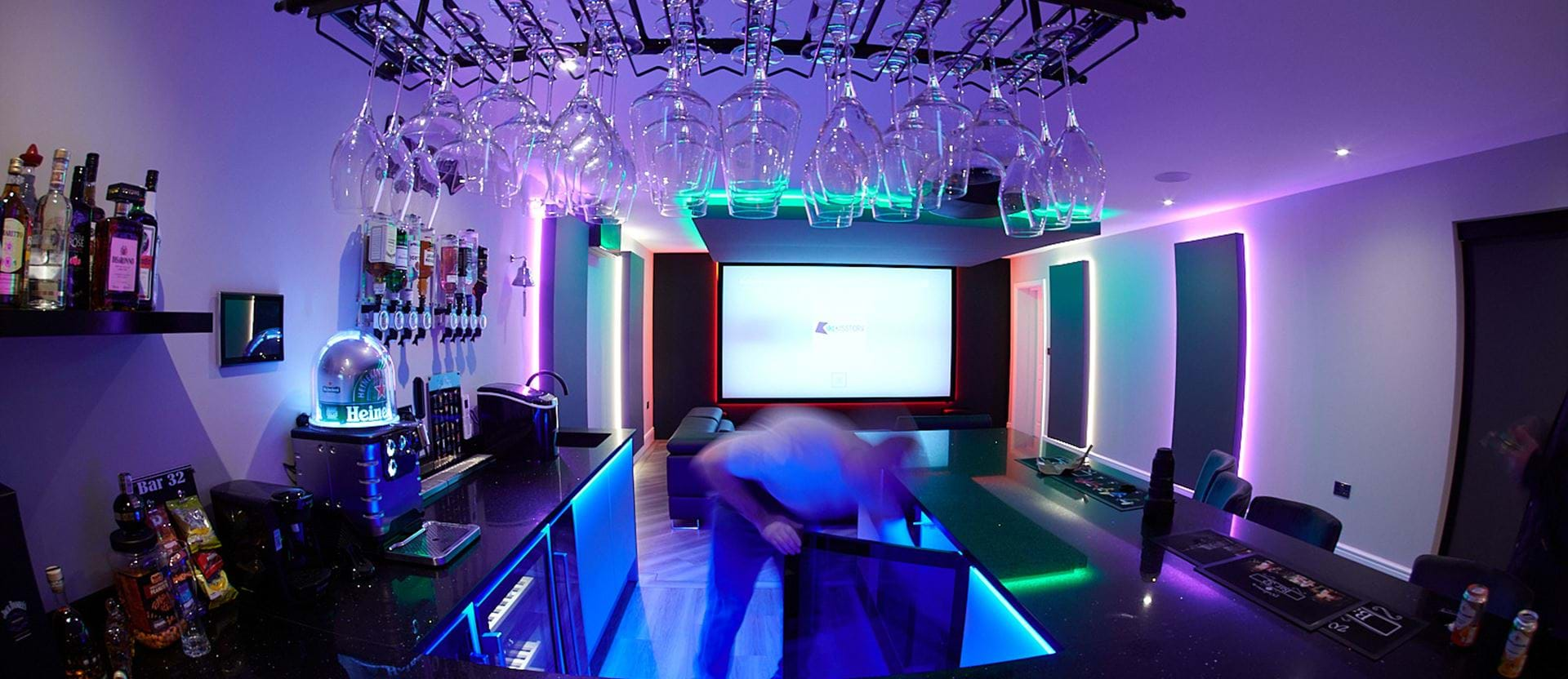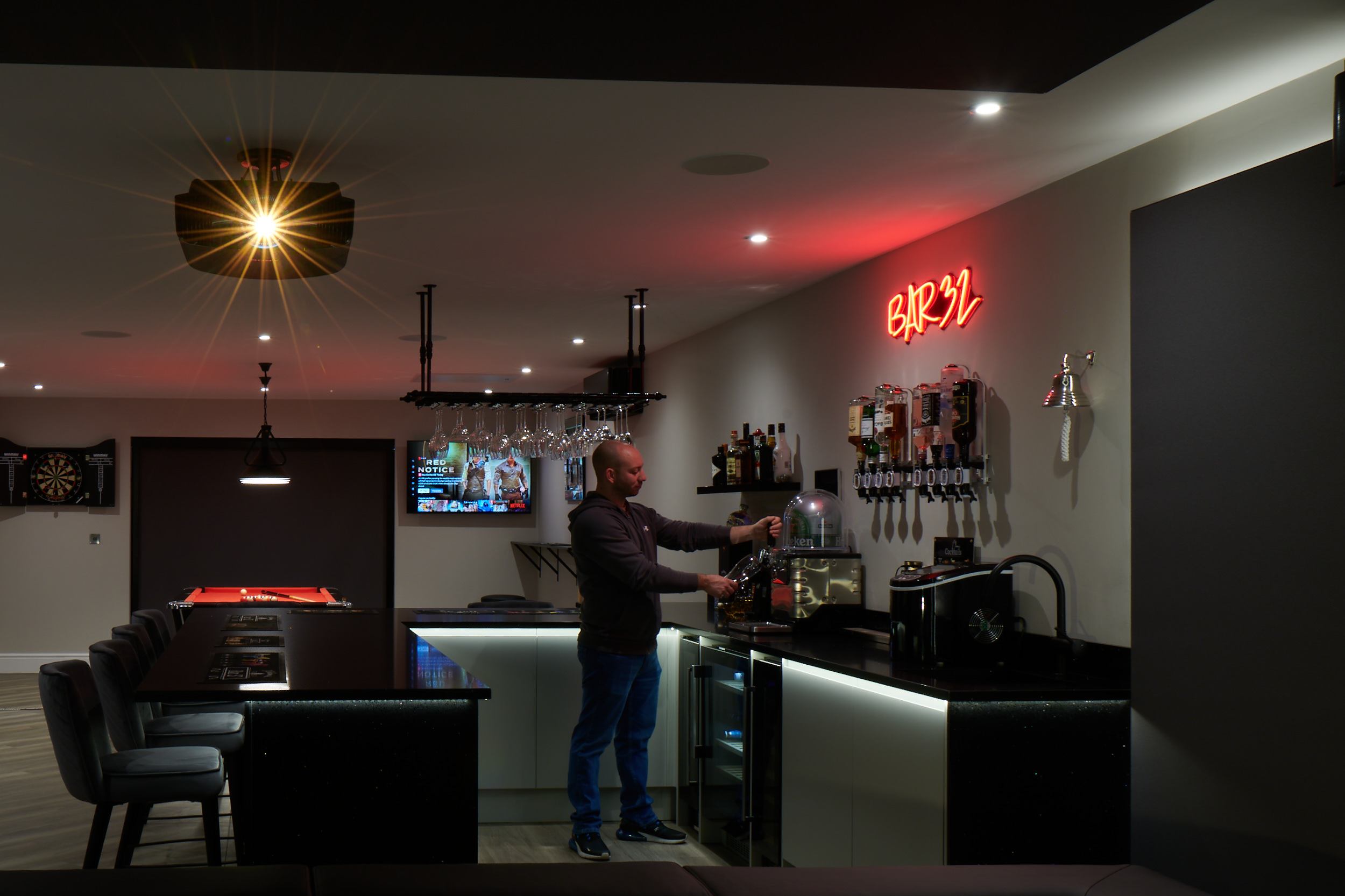 Project Background
The project began with two unused rooms, which the homeowners wanted to convert into one large entertainment space suitable for friends and family to visit and enjoy. Designed and installed by London-based smart home installer, DPP Smart Home, the two rooms have been brilliantly combined to create a cinema room, bar and games area, with the entertainment controlled by a URC system integrating LED lighting control from Rako.  
The purpose of the lighting scheme was to create various scenes to work with the space, to complement the cinema room, but also to transform the open plan area into the perfect party space, when needed. Another factor to consider was the clients themselves, who were not immediately comfortable with technology and wanted a solution that would be easy to understand and most importantly, easy to use.
Cinematic Experience 
In the cinema area, coloured LED strip lighting and Rako RLED dimmers have been installed behind the columns and around the ceiling to create the specific scenes and set the moods. DPP Smart Homes also installed the RK-HUB to allow the homeowners to have mobile app control. In fact, the homeowners have a choice when it comes to controlling the lighting and AV equipment. They can use the URC in-wall touchscreen controller, the touchscreen LCD remote control with voice control, or a smartphone, fulfilling the requirements for an easy to use system.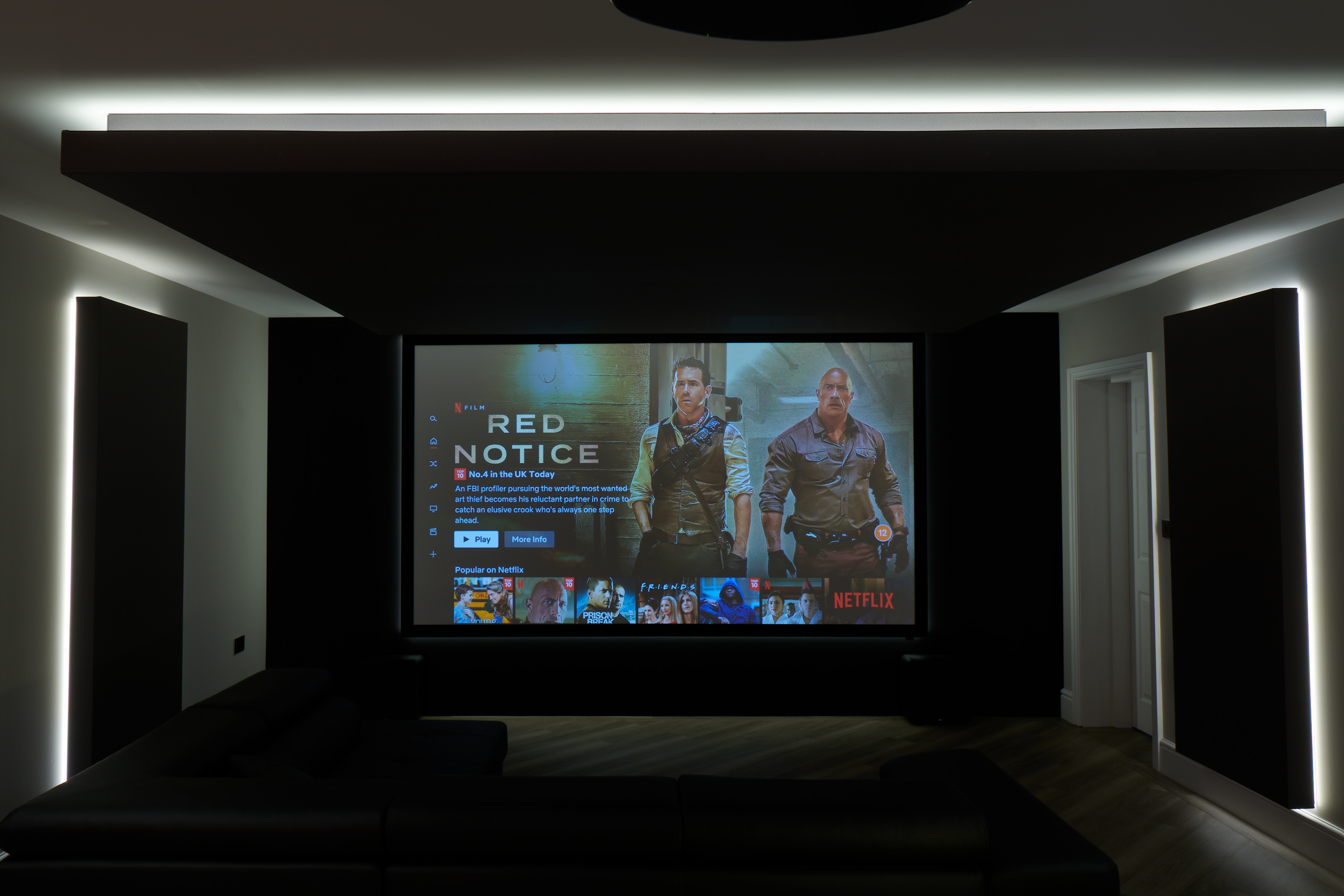 Project Features & Products Used
To create the desired result, DPP Smart Home selected a Rako wireless solution that allowed for complete flexibility when it came to positioning the lighting. 
Dominic Parete, Director at DPP Smart Home and Electrical, talks through the planning for the lighting control, "For cinema viewing, we wanted to keep the lighting as dim and dramatic as possible to create an effect that draws you into the film. However, when the space is being used for a party or similar occasion, we wanted to have some really funky lighting effects that would give us the right atmosphere for music and dancing." 
All images courtesy of DPP Smart Homes
Dominic continues, "We love the customisability of Rako controls and how well it integrated with our chosen automation system, URC. We are extremely proud of the finished product, we feel that it's a great showcase of what Rako can do and how well it works for various applications."
DPP Smart Home programmed four different lighting scenes for the room using a Rako 10-button scene keypad. Each setting is unique with an individual colour range that appears at different speeds on each setting to provide the homeowners with a different ambience for the various functions of the room. For instance, the 'Party Time' setting initiates the LED strip lighting, which runs the length of the bar, the wall columns and ceiling, to go into a colour changing rotation.